Explore The Largest Lake In Arkansas
Resorts & Lodging
There are a number of amazing places to stay on Lake Ouachita.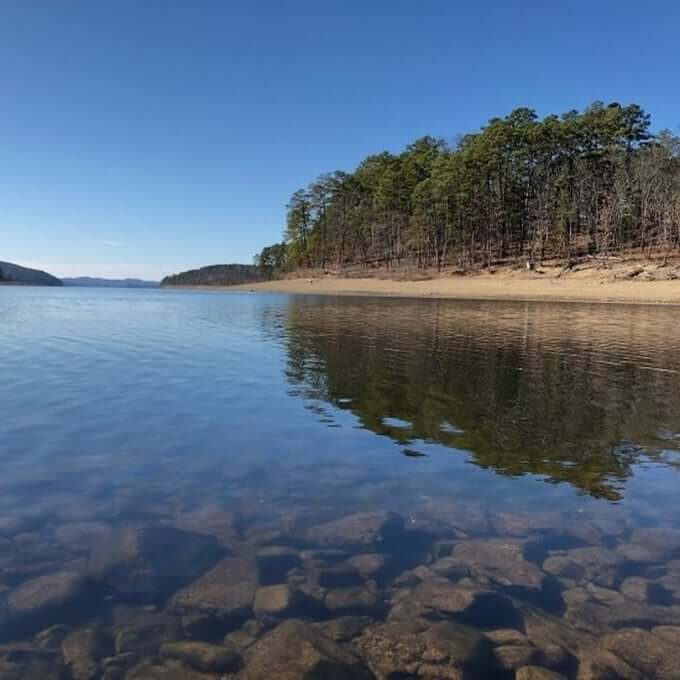 The State Park
Learn about the state park and what you can do in the area.
Lake Ouachita – Arkansas's Largest Lake. With very little shoreline development. A Pristine Public Corps of Engineers Lake with 66,324 total acres of Land and Water surrounded by the Ouachita National Forest of more than 1.8 million acres.
Yet Lake Ouachita is only 13 miles from the Spa City of Hot Springs National Park, Arkansas on the East End and on the door steps of the Quartz Crystal Capital of the World, Mount Ida, Arkansas, on the West End.
Find Locations of:
Public Camp Grounds,  Lake Side Resorts, Lake Ouachita State Park
Hiking / Biking Trails, Fishing Guides and Hunting Information.
With the added bonus of GPS locations of Brush Piles / Crappie Condos.
• No homes are allowed on the tree covered rustic shore line of over 600 miles.
• Lake Ouachita is one of the cleanest lakes in the country.
• A public C.O.E. Lake, it is the first of 3 lakes built on the Ouachita River.
• With open camping and over 200 islands you can find your own private Lake Side camp site.
Pronounced "Wash-ah-taw", the lake was created by building the Blakely Mountain Dam.
"Ouachita" is the French spelling of the Indian word "Washita" which is from two Choctaw Indian words, "Owa Chito," meaning big hunt.
With over 40,000 acres of water, Lake Ouachita averages 50 feet deep. The deepest area touching 200 feet.
Lake Ouachita was not clear cut before it was filled, so a forest is still standing beneath the surface. Many trees left standing were over 60 feet tall. Always be on the lookout for shallow water markers and tree tops. Even in seemingly open water you can go from 150 feet to 2 feet in a short distance.
Largemouth Bass, Small Mouth Bass, Spotted Bass, Bream, Crappie, Catfish, Walleye and World Class Striped Bass await the angler.
There are many unusual features in and around the lake, one feature, the Geo-Float Trail, is a marked water trail which can be followed with a brochure detailing prominent geologic features along the marked trail.
Lake Ouachita also features one of the largest crystal veins in the world.
Rare freshwater jelly fish , fresh water sponges and fresh water shrimp which only thrive in the world's cleanest lakes can be seen in Ouachita.
Scuba Divers from all over the world enjoy the clarity of the water and the special spear fishing season.
Recent Ouachita Events:
The International Mountain Bicycling Association chapter, Ozark Off Road Cyclists, reminds mountain bikers of the state's newest Epic and longest mountain bike trail the 223 miles long, Ouachita National Recreation Trail.
Lake Ouachita was constructed and completed by the U.S. Army Corps of Engineers between 1946 and 1954 for flood control and hydropower.
Authorized purposes now include recreation, water supply, fish and wildlife management.