Lake Ontario Salmon Fishing
Lake Ontario is located on the western side of New York and is part of the border between New York and Canada. It's also one of the United States Great Lakes and is world-renowned for its amazing fishing. 
The lake is filled with over 20 different species of fish, some of which include: largemouth and smallmouth bass, lake trout, and walleye. Many of these game fish attract people year round in hopes of catching their own Lake Ontario Giant.
Lake Ontario Salmon Species
The species of fish that draws the most fisherman to visit the lake is the salmon. You will find 3 different species of salmon in the Lake. The Atlantic Salmon is the largest of the 3 and provides trophy sized fish to remember forever. The Coho and Chinook Salmon are usually smaller than the Atlantic's, however, all 3 are still considered trophy fish for any angler. 
Methods of Fishing for Salmon
Salmon can be a tricky species to fish for and hook. To make things a little easier for you, we've highlighted some of the most popular ways to salmon fish on Lake Ontario. 
Trolling 
Trolling is by far the most popular fishing technique to use when fishing for Salmon on Lake Ontario. When trolling, you'll have multiple lines in the water and the ability to cover more water in search of these trophy fish. Salmon like to coast at between 52–58 Fahrenheit, so when fishing you want to check the lake's water temperatures and focus on fishing areas that are at that water temperature. 
The next thing to cover is the choice of lures. Most anglers agree that the best lures for Lake Ontario Salmon fishing are spoons. They're bright and shiny in color and move aggressively in the water, all of which attracts fish. 
When trolling in deeper waters you want to have dipsy divers and downriggers. These will bring your lures deeper in the water Column. You want to have your lures deep in the water Column because most salmon tend to stick to deeper water. Finally, it is very important to remember that these are very powerful fish, so be prepared for the fight of your life!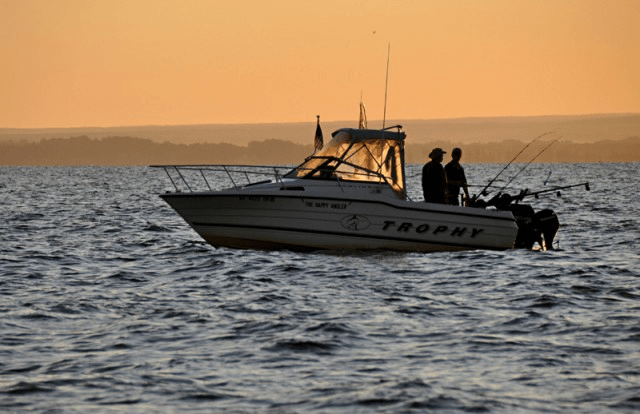 Drift Fishing
Drift fishing is a commonly used method when targeting salmon in rivers. The salmon River and the Oswego River both connect to Lake Ontario and are heavily fished waters for salmon.
Drift fishing is a technique where you cast upstream and allow your lure/bait to drift along with the current towards the spot that you are targeting. You may also drift fish from an anchored boat which is a popular technique on large rivers. 
The key to drift fishing is to use enough weight on your rig so that it bounces about a foot or so every time it bounces downstream in the current.​Too much weight and it will stay in place and not travel very far from where you cast it. Too little weight and your lure or bait will run too shallow in the water column. Many anglers use this method when the salmon are migrating up the rivers to spawn. This takes place in the fall and is known as "The Salmon Run". 
Need a Place to Stay?
Lake Ontario was voted one of the world's best places to travel and is loved by many different tourists or fisherman looking to see what the lake has to offer. Since the lake is visited by thousands of people each year there are many different options of places to stay when you're visiting. From hotels to cottages you can always find a place to stay when you need it. 
However, one of my favorite things to do is to check out the local campgrounds and stay in my RV while I'm on my fishing trip. All the towns and cities surrounding Lake Ontario are home to beautiful campgrounds that are open from spring to fall. 
Many of these Campgrounds are located near a marina for launching your boat. Some even have their own marina that is private to ensure their guests have the best experience on the lake! These campgrounds provide ideal locations close to the lake for any angler looking to test their luck and hit the waters of Lake Ontario.
I have put together a list of a few ideal campgrounds that you should check out if you're considering taking a fishing trip to Lake Ontario in an RV. 
Lake Bluff Campground

Ontario Shores RV Park

Daisy Barn Campground

Willows Campground

Hughes Marina & Campground
If you don't have an RV, you can also consider purchasing an RV or camping trailer rental.
Conclusion
If you are considering taking a trip to Lake Ontario anytime, make sure you Bring your rod and reel so you can see what this lake has to offer. From trolling the lake for trophy salmon or drift fishing one of the rivers you will have the time of your life. 
And consider bringing your RV or renting one and staying at one of the local campgrounds right on the lake. I hope this information has been helpful! Best of luck on your next fishing adventure! 
Want more places to explore? Consider fishing at Lake Ouachita.